Nhsc-v1-137
From GrassrootWiki
---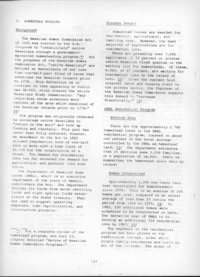 C. HOMESTEAD HOUSING
Background
The Hawaiian Homes Commission Act of 1920 was enacted by the U.S. Congress to "rehabilitate" native Hawaiians through a government sponsored homesteading program.*/ For the purposes of the Hawaiian Homes Commission Act, "native Hawaiians" are defined as descendants of not less than one-half-part blood of races that inhabited the Hawaiian Islands prior to 1778. This definition is in contrast to that appearing in Public Law 96-565, which created the Native Hawaiians Study Commission: "any individual whose ancestors were natives of the area which consisted of the Hawaiian Islands prior to 1778." 10/
The program was originally intended to encourage native Hawaiians to "return to the soil" and take up farming and ranching. This goal has never been fully achieved, however. An amendment to the Act in 1923 allowed residential lots of one-half acre or more with a loan limit of $1,000 for the construction of a house. The demand for residential lots has far exceeded the demand for agricultural and pastoral lots ever since.
The Department of Hawaiian Home Lands (DHHL), which is an executive department of the State of Hawaii, administers the Act. The Department derives its funds from seven revolving funds and eight special funds established in the State treasury. They are used to support operating expenses, loan capitalization, and construction projects.
*/ For a complete review of the homestead program, see Part II, chapter entitled "Review of Hawaiian Homes Commission Programs."
Present Demand
Homestead leases are awarded for residential, agricultural, and ranching uses. However, the vast majority of applications are for residential lots.
There are presently over 7,000 applicants of 50 percent or greater native Hawaiian blood quantum on the waiting list for homesteads. Of these, 6,360, or 87 percent, are waiting for residential lots on the island of Oahu. 11/ Given the current high interest rates and housing costs in the private sector, the Chairman of the Hawaiian Homes Commission expects this demand to "increase dramatically." 12/
DHHL Residential Program
Service Area
There are now approximately 2,700 homestead homes in the DHHL residential program, located on about one percent of the total acreage controlled by the DHHL as homestead land. 13/ The Department estimates that it services some 3,000 families, or a population of 18,000. Table 56 summarizes the homestead lease data by island.
Homes Constructed
Approximately 1,305 new homes have been constructed for homesteaders since 1976. This is an average of 2 00 homes per year, compared to an annual average of less than 25 during the period from 1950 to 1975. 14/ In 1982, 230 additional homes were scheduled to be constructed on Oahu. The tentative goal of DHHL is to develop an additional 710 residential lots by 1987. 15/
The emphasis in the residential program has been placed or the subdivision concept, under which single family residences are built on all of the islands. The sizes of
---