Nhsc-v1-139
From GrassrootWiki
---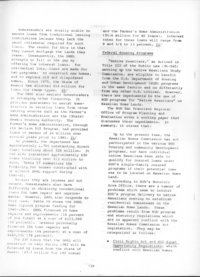 Homesteaders are usually unable to secure loans from traditional lending institutions because they lack the usual collateral required for such Loans. The reason for this is that they cannot mortgage the lands they lease. Consequently, the DHHL attempts to fill in the gap by offering low interest loans. For residential lots, loans are made for two purposes: to construct new homes, and to replace old and dilapidated homes. Since 1975, the State of Hawaii has allotted $14 million for loans for these types. 20/
The DHHL also assists homesteaders in arranging other financing. It provides guarantees to assist homesteaders in securing loans from other lending sources such as the Farmer's Home Administration and the (State) Hawaii Housing Authority. The Farmer's Home Administration, through its Section 502 Program, had provided loans in excess of $6 million over several years prior to 1981. 21/
At present, the Department has approximately 1,700 outstanding direct loans totalling about $28 million. It has also guaranteed approximately 650 loans totalling over $12 million to date. Table 57 summarizes the financing for houses constructed with or without DHHL support during 1980-81.
Because they are lessees and not owners, homesteaders also have difficulty in obtaining conventional loans for home repair and improvements. However, DHHL also responds to this need. Table 58 shows the DHHL home repairs program funding for 19B0-1981. DHHL financed 20 home repairs and improvements (16 percent of the total) at a cost of $153,000 (26 percent). Lessees personally financed 106 home repairs and improvements (84 percent) at a cost of $445,000 (74 percent).
The 230 homes that the DHHL will construct on Oahu during 1982 will be financed by loans from the State of Hawaii ($7.7 million for 190 loans) and the Farmer's Home Administration ($1.6 million for 40 loans). Interest rates for these loans will range from 8 and 3/4 to 13 percent. 22/
Federal Housing Programs
"Native Hawaiians," as defined in Title III of the Public Law (96-565) setting up the Native Hawaiians Study Commission, are eligible to benefit from the U.S. Department of Housing and Urban Development (HUD) programs in the same fashion and no differently from any other U.S. citizen. However, there are impediments to the use of HUD programs for "Native Hawaiians" on Hawaiian Home Lands.
The HUD San Francisco Regional Office of Program Planning and Evaluation wrote a working paper that discusses these impediments. In summary, it states that:
Up to the present time, the Hawaiian Homes Commission has not participated in the various HUD housing and community development programs, nor have individual native Hawaiians been able to qualify for insured loans under HUD's single-family insured programs if their potential home was to be located on Hawaiian Home Land.
According to HUD's Honolulu Area Office, there are a number of problems which seem to inhibit HUD's program delivery to native Hawaiians seeking to establish residential homesteads on the Hawaiian Home Lands. These problems result from HUD program and statutory regulations which are in apparent conflict with the Hawaiian Homes Commission Act legislation. They may be categorized as follows:
Civil Rights Act and HUD Equal
Opportunity Regulations, which conflict with Hawaiian Homes
---