Nhsc-v1-14
From GrassrootWiki
---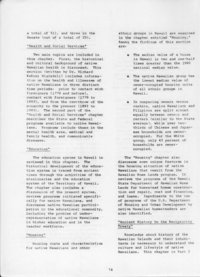 a total of 51), and three in the Senate (out of a total of 25).
"Health and Social Services"
Two main topics are included in this chapter. First, the historical and cultural background of native Hawaiian health is discussed. This section (written by Dr. Richard Kekuni Blaisdell) includes information on the health and illnesses of native Hawaiians in three distinct time periods: prior to contact with foreigners (1778 and before), contact with foreigners (1778 to 1893), and from the overthrow of the monarchy to the present (1893 to 198 3). The second part of the "Health and Social Services" chapter describes the State and Federal programs available to native Hawaiians. Programs include those in the mental health area, medical and family health, and communicable diseases.
"Education"
The education system in Hawaii is reviewed in this chapter. The historical development of the education system is traced from ancient times through the activities of the missionaries and the education system of the Territory of Hawaii. The chapter also includes a discussion of the present system, reviews programs initiated specifically for native Hawaiians, and discusses native Hawaiian participation in the educational community, including the problem of underrepresentation of native Hawaiians in higher education and in the teacher workforce.
"Housing"
Housing costs and characteristics for native Hawaiians and other ethnic groups in Hawaii are examined in the chapter entitled "Housing." Among the findings of this section are:
The median value of a house in Hawaii is two and one-half times greater than the 1980 national median value.
The native Hawaiian group has the lowest median value of owner-occupied housing units of all ethnic groups in Hawaii.
In comparing owners versus renters, native Hawaiians and Filipinos are split almost equally between owners and renters (similar to the State average), while over twothirds of Chinese and Japanese households are owner occupied. For the White group, only 43 percent of households are owneroccupied.
The "Housing" chapter also discusses some unique features in the housing situation of native Hawaiians that result from the Hawaiian Home Lands program. It reviews the programs of the Hawaii State Department of Hawaiian Home Lands for homestead homes construction and repair, cost and financing, and loans. Impediments to the use of programs of the U.S. Department of Housing and Urban Development by native Hawaiian homesteaders are' also identified.
"Ancient History to the Reciprocity Treaty"
Knowledge about history of the Hawaiian Islands and their inhabitants is necessary to understand the culture and lifestyle of native Hawaiians. This chapter in Part I
---