Nhsc-v1-15
From GrassrootWiki
---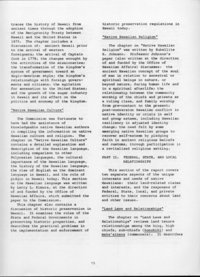 traces the history of Hawaii from ancient times through the adoption of the Reciprocity Treaty between Hawaii and the United States in 1875. The chapter includes a discussion of: ancient Hawaii prior to the arrival of western foreigners; the arrival of Captain Cook in 1778; the changes wrought by the activities of the missionaries; the transformation of the kingdom's system of government toward an Anglo-American style; the kingdom's relationships with foreign governments and citizens; the agitation for annexation to the United States; and the growth of the sugar industry in Hawaii and its effect on the politics and economy of the kingdom.
"Native Hawaiian Culture"
The Commission was fortunate to have had the assistance of knowledgeable native Hawaiian authors in compiling the information on native Hawaiian culture and religion. The chapter on "Native Hawaiian Culture" contains a detailed explanation and description of the Hawaiian language, including comparison to other Polynesian languages, the cultural importance of the Hawaiian language, the history of the Hawaiian language, the rise of English as the dominant language in Hawaii, and the role of pidgin in Hawaii today. This section on the Hawaiian language was written by Larry L. Kimura, at the direction of and funded by the Office of Hawaiian Affairs, which submitted the paper to the Commission.
This chapter also contains a discussion of historic preservation in Hawaii. It examines the roles of the State and Federal Governments in preserving historic properties, and describes the practical problems in the implementation and enforcement of historic preservation regulations in Hawaii today.
"Native Hawaiian Religion"
The chapter on "Native Hawaiian Religion" was written by Rubellite K. Johnson. Professor Johnson's paper (also written at the direction of and funded by the Office of Hawaiian Affairs) discusses: the ancient Hawaiian concept of the soul of man in relation to ancestral or spiritual beings in nature, or beyond nature, during human life and in a spiritual afterlife; the relationship between the community worship of the chiefs and priests as a ruling class, and family worship from pre-contact to the present; post-conversion Hawaiian conflict in native identity or crisis in self and group esteem, including Hawaiian resiliency in adjusted identity change; the need felt by some emerging native Hawaiian groups to recover self-esteem by pledging faith in ancient religious beliefs and customs, through participation in a revitalized religious setting.
PART II. FEDERAL, STATE, AND LOCAL RELATIONSHIPS
This section of the report covers two separate aspects of the unique interests and needs of native Hawaiians: their land-related claims and interests, and the responses of Federal, State, local, and private entities to their concerns about land and other issues.
"Land Laws and Relationships"
The chapter on "Land Laws and Relationships" reviews land tenure relationships among the king, high chiefs, sub-chiefs (konohiki) and maka'ainana (commoners). It describes
---