Nhsc-v1-151
From GrassrootWiki
---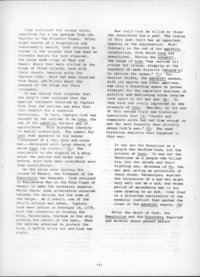 Cook continued his voyage north, searching for a sea passage from the Pacific to the Atlantic Ocean. After eight months of a frustrating and unsuccessful search, Cook returned to winter in the islands that had been so friendly during his last stopover. The ships made stops at Maui and Hawaii where they were visited by the kings of those islands, each with their chiefs, bearing gifts for Captain Cook. Word had been received from Kauai and Niihau about the wonders of the ships and their occupants.
It was during this stopover that the ship's crew realized that the special treatment received by Captain Cook from the natives was more than just respect for a superior technology. In fact, Captain Cook was thought by the natives to be Lono, the god of the makahiki harvest and of agriculture. This mistaken identity is easily understood. The symbol for Lono that appeared on his banner "consisted of a tall pole and cross bar...decorated with large sheets of white kapa (or cloth)." 30/ The similarity to the rigging of a ship, which the natives had never seen before, must have been considered more than coincidental.
As the ships were leaving the island of Hawaii, the foremast of the Resolution was damaged. Cook returned to Kealakekua Bay on the Kona Coast of Hawaii to make the necessary repairs. While there, some altercation occurred between the natives and the crew of the ships. As a result, one of the ship's cutters was taken. Captain Cook went ashore on February 14, 1779, with the intention of holding the king, Kalaniopuu, hostage on his ship pending the return of the boat. When the natives advanced to protect the king, a battle broke out and Cook was slain.
How could Cook be killed by those who considered him a god? The timing of this last visit has an important bearing on the explanation. Mid- February is the end of the makahiki celebration, with which Lono was associated. During the makahiki, the image of Lono "was carried all around the island, stopping at the boundary of each district (ahupua'a) to receive the taxes." 31/ For warrior chiefs, the makahiki season, with its sports and other pastimes, was only a breathing space to gather strength for the important business of politics and dedicating state temples once again to the war god, Ku. So they were not overly impressed by the presence of Lono. Besides, by the end of this second visit one historian speculates that 32/ "chiefs and commoners alike had had time enough to see far more humanity than divinity among Cook's men." 33/ The same historian explains what happened in this way:
It was not the Hawaiians as a people who deified Cook, but the priests of Lono. It was not the Hawaiians as a people who killed him, but the chiefs and their fighting men, devotees of Ku, the war god, acting as protectors of their ruler, Kalaniopuu, against the incursions of a god who might very well not be a god, and whose period of ascendancy was in any case drawing to an end. Cook died in a distorted realization of the symbolic conflict that marked the close of the makahiki season. 34/
After the death of Cook, the Resolution and the Discovery departed and several years passed before
---