Nhsc-v1-161
From GrassrootWiki
---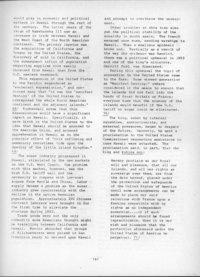 would play in economic and political matters in Hawaii through the rest of the century. The latter years of the reign of Kamehameha III saw an increase in trade between Hawaii and the West Coast of the North American continent. The primary impetus was the acquisition of California and Oregon by the United States, the discovery of gold in California, and the subsequent influx of population requiring supplies more easily obtained from Hawaii than from the U.S. eastern seaboard.
This expansion of the United States to the Pacific engendered an "exuberant expansionism, " and convinced many that "it was the 'manifest destiny' of the United States to overspread the whole North American continent and the adjacent islands." 68/ Kuykendall notes that this expansionism would have a significant impact on Hawaii. Specifically, it gave birth in the United States to the idea that Hawaii should be annexed to the American Union, and aroused apprehension in Hawaii as to the possible effect of "this onflowing and seemingly resistless tide upon the destiny of the little island kingdom." 69/
The sugar industry progressed in Hawaii, stimulated by the new markets on the U.S. West Coast. One problem with this market, however, was the high U.S. tariff wall and the necessity to compete with low-cost sugars from Manila and China. Labor supply became a problem as the sugar industry grew concurrently with the decline in the native Hawaiian population. Approximately 200 Chinese contract laborers were brought in for the first time to alleviate the shortage during 1852.
Trade goods were not the only commodity some Hawaiians thought might he travelling between California and Hawaii. Rumors abounded that groups of filibusterers were poised in San Francisco ready to descend upon Hawaii and attempt to overthrow the government.
Other troubles at this time also put the political stability of the monarchy in doubt again. The French menaced once more, sending warships to Hawaii. Then a smallpox epidemic broke out. Partially as a result of the way the epidemic was handled, there was a political upheaval in 1853 and one of the king's ministers, Gerritt Judd, was dismissed.
During this upheaval the topic of annexation to the United States came to the fore. Some viewed annexation as "Manifest Destiny;" others considered it the means to ensure that the islands did not fall into the hands of Great Britain or France; everyone knew that the economy of the islands would benefit if the U.S. tariff on sugar could be eliminated. 70/
The king, beset by internal squabbles, annexationists, and external pressures, began to despair of the future. Secretly, he sent a proclamation to the United States Commissioner requesting assistance in case Hawaii were attacked. The proclamation said, in part, that the king and kuhina nui:
Hereby proclaim as our Royal will and pleasure, that all our Islands, and all our rights as sovereign over them, are from the date hereof, placed under the protection and safeguards of the United States of America until some arrangements can be made to place our said relations with France upon a footing compatible with my rights as an independent sovereign,...or if such arrangements should be found impracticable, then it is our wish and pleasure that the protection aforesaid under the United States of America be perpetual. 71/
---