Nhsc-v1-265
From GrassrootWiki
---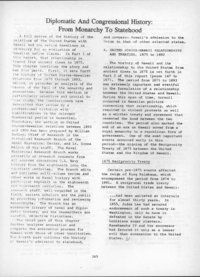 Diplomatic And Congressional History: From Monarchy To Statehood
A full review of the history of the relations of the United States with Hawaii and the native Hawaiians is necessary for an evaluation of Hawaiian native claims. In Part I of this Report, that relationship is traced from ancient times to 1875. This chapter continues the story and has four parts. First, it sets forth the history of United States-Hawaiian relations from 1875 through 1893. Second, it provides an analysis of the causes of the fall of the monarchy and annexation. Because this section is particularly sensitive and crucial to this study, the Commissioners have determined that review by a professional historian with qualifications in the relevant historical period is essential. Therefore, the section on United states-Hawaiian relations between 1893 and 1900 has been prepared by William Dudley, Chief of Research in the Historical Research Branch of the Naval Historical Center, and Lt. Donna Nelson of his staff. The Naval Historical Research Branch works primarily on research requests from all sources concerning U.S. Navy history from the eighteenth into the twentieth centuries. The Branch edits and publishes multi-volume series and other works on Naval history with particular emphasis on the eighteenth and nineteenth centuries. The research staff, well-regarded in the field, assists scholars and the public by providing information and reviewing manuscripts. The Branch has an extensive library of naval and diplomatic history, and the researchers are careful, objective historians.
The third part of this chapter further analyzes annexation and compares the annexation process for Hawaii with those of other territories. The fourth part outlines the history of Hawaii's admission to statehood, and compares Hawaii's admission to the Union to that of other selected states.
A. UNITED STATES-HAWAII RELATIONSHIPS AND TREATIES, 1875 to 1893
The history of Hawaii and its relationship to the United States from ancient times to 1875 is set forth in Part I of this report (pages 147 to 167). The period from 1875 to 1893 was extremely important and eventful in the formulation of a relationship between the United States and Hawaii. During this span of time, turmoil occurred in Hawaiian politics concerning that relationship, which resulted in violent protests as well as a written treaty and agreement that cemented the bond between the two countries. The period also marked the end of an era as Hawaii moved from a royal monarchy to a republican form of government. One of the most important events occurred early in this period—the signing of the Reciprocity Treaty of 1875 between the United States and the Kingdom of Hawaii.
1875 Reciprocity Treaty
Certain pre-1875 events affected the reign of King Kalakaua, which encompassed the period from 1874 to 1891. A reciprocal trade treaty between the United States and Hawaii:
...had been agitated at intervals for almost thirty years. In 1855, Judge Lee had secured endorsement of such a treaty in Washington, only to have it defeated in the Senate by Louisiana sugar planters. Kamehameha IV and his successor had favored it only as a lesser evil than annexation to the United States. 1/
---