Nhsc-v1-292
From GrassrootWiki
---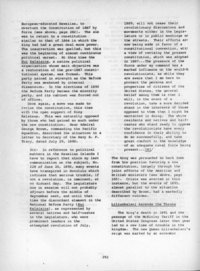 European-educated Hawaiian, to overturn the Constitution of 1387 by force (see above, page 282). The aim was to return to a constitution similar to that of 1864 in which the king had had a great deal more power. The insurrection was quelled, but this was the beginning of almost continuous political unrest. At this time the Hui Kalaiaina, a native political organization whose main objective was a restoration of the pre-1887 constitutional system, was formed. This party gained in strength as the Reform Party was weakened by internal dissension. In the elections of 1890 the Reform Party became the minority party, and its cabinet was forced out of office.
Once again, a move was made to revise the constitution, this time with the open support of King Kalakaua. This was naturally opposed by those who had gained so much under the new constitution. Rear Admiral George Brown, commanding the Pacific Squadron, described the situation in a letter to Secretary of the Navy B. F. Tracy, dated July 29, 1890:
Sir: In reference to political matters in the Hawaiian Islands I have to report that since my last communication on the subject, No. 228 of June 26, 1890, many events have transpired in Honolulu which indicate that serious trouble, if not a revolution, is imminent, at no distant day. The Legislature now in session will not probably adjourn before the middle of September next, and until that time the discordant element in the National Reform Party (Hui Kalaiaina), as represented by several natives and half-castes in the Legislature, who were prominent leaders in the attempted revolution of July, 1889, will not cease their revolutionary discussions and movements either in the Legislature or in public meetings or the streets. Their efforts are now being made in favor of a constitutional convention, with a view of revising the present constitution, which was adopted in 1887...The presence of the force under my command has a marked influence on the would-b revolutionists, as while they are aware that I am here to protect the persons and properties of citizens of the United States, the general belief among them is that I will, in the event of a revolution, take a more decided stand in the interests of those opposed to them than I might be warranted in doing. The white residents and natives and half-castes who stand ready to oppose the revolutionists have every confidence in their ability to do so successfully, and take great ccmfort in the knowledge of an adequate naval force being present...181/
The king was persuaded to back down from his position favoring a new constitution, largely through the joint efforts of the American and British ministers (see above, page 285). Crisis was averted in this instance, but the events of 1893, almost parallel to the situation described by Brown, had a markedly different outcome.
Liliuokalani Ascends the Throne
The king's death in 1891 and the passage of the McKinley Tariff in the United States Congress later that year led to a new time of trouble in the kingdom. The new Queen Liliuokalani's reign was marked by an economic
---