Nhsc-v1-354
From GrassrootWiki
---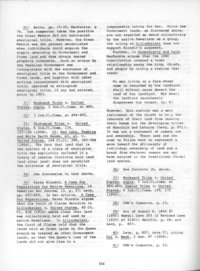 30/ Betts, pp. 15-20; MacKenzie, p 76. One commenter takes the position the Great Mahele did not extinguish aboriginal title. However, the Great Mahele was the process established when individuals could acquire fee simple ownership to Government and Crown land and thus obtain vested property interests. Such an action by the Hawaiian Government was inconsistent with the existence of aboriginal title to the Government and Crown lands, and together with other actions inconsistent with aboriginal title, operated to extinguish aboriginal title, if any had existed, prior to 1893.
31/ Nooksack Tribe v. United States, supra, 3 Ind.Cl.Comm. at 495.
32/ 3 Ind.Cl.Comm. at 494-495.
33/ Skokomish Tribe v. United States, 6 Ind.Cl.Comm. 135, 157-158 (1958). Cf. Red Lake, Pembina and White Earth Bands, et. al. v. United States, 164 Ct.Cl. 389, 393-394 (1964). The fact that land that is the subject of a claim of aboriginal title was explicitly included in a treaty of cession involving said land (and other land) does not establish the existence of aboriginal title.
34/ See discussion in text above.
35/ Karen Blondin, A Case for reparations for Native Hawaiians, 16 Hawaiian Bar Journal 13, p. 27; Levy, pp. 857-859. In her article, A Case for Reparations, Karen Blondin argues that the Court of Claims decision in Liliuokalani v. United States, 45 Ct. CI. 418 (1910) makes clear that land was collectively held and used by native Hawaiians. In Liliuokalani, the Court of Claims held that the lands held as Crown lands by the Queen should be treated as other Government lands, so that the Queen's loss of the lands did not give rise to a compensable taking for her. Since the Government lands, as discussed above, are not regarded as owned collectively by the native Hawaiians as a group, the ruling in Liliuokalani does not support Blondin's argument.
Further, in Sovereignty and Land, MacKenzie argues that the 1840 Constitution created a trust relationship among the king, chiefs, and people by citing a statute that reads:
No man living on a farm whose name is recorded by his landlord, shall without cause desert the land of his landlord. Nor shall the landlord causelessly dispossess his tenant. (p. 6)
However, this statute was a mere instrument of the chiefs to ke p the laborers of their land from leaving their homes for the developing cities of Honolulu and Lahaina (Levy, p. 851). It was not a statement of common use and ownership. These laws and the ones to follow were to represent a move toward the philosophy of individual ownership of land and a break from whatever common use may have existed in the traditional feudal land system.
36/ See footnote 16, above.
37/ Nooksack Tribe v. United States, supra, 3 Ind.Cl.Comm, at 494-495; Samish Tribe v. United States, 6 Ind.Cl.Comm. 159, 172 (1958).
38/ OHA's Comments, p. 23.
39/ Act of August 6, 1850 §7 [1850] Hawaii Laws 203 (2 Revised Laws (1925) at 2142); Hanifin, p. 18; and Levy, p. 857.
40/ Levy, p. 857, note 57, citing Oni v. Meek, 2 Haw. 87 (1858).
41/ OHA's Comments, p. 23.
---