Nhsc-v1-362
From GrassrootWiki
---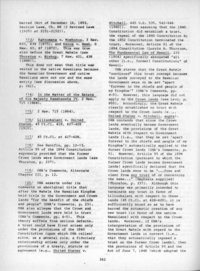 barred (Act of December 16, 1892, Session Laws, Ch. 68 (2 Revised Laws (1925) at 2151-2152)). 113/ Kahoomana v. Moehonua, 3 Haw. 635, 639 (1875); and Kenoa v. Meek, 6 Haw. 63, 67 (1872). This was true also before the Great Mahele (see Thurston v. Bishop, 7 Haw. 421, 438 (1888)). This does not mean that title was vested in the native Hawaiians because the Hawaiian Government and native Hawaiians were not one and the same entity (see discussion above, p. 341).
114/ In the Matter of the Estate of His Majesty Kamehameha IV, 2 Haw. 715 (1864).
115/ 2 Haw. 715 (1864).
116/ Liliuokalani v. United States, 45 Ct.Cl. 418, 427-428 (1910).
117/ 45 Ct.Cl. at 427-428.
118/ See Hanifin, pp. 12-13. Article 95 of the 1894 Constitution expressly provided that the former Crown lands were Government lands (see Thurston, p. 237).
119/ OHA's Comments, Alternate Chapter III, p. 12.
120/ OHA asserts under its comments on aboriginal title that after the Mahele the Hawaiian Kingdom held title to the Government and Crown lands "for the benefit of the chiefs and people" (OHA's Comments, p. 23). OHA also alleges that the Crown and Government lands were held in trust (OHA's Comments, pp. 4-5). This theory suffers from serious defects. A trust could have first arisen only under the provisions of the 1840 Constitution (upon which OHA relies) since, as a general rule, a fiduciary relationship arises only under the provisions of a treaty, statute or agreement (e.g., United States v. Mitchell, 445 U.S. 535, 542-546 (1980)). Even assuming that the 1840 Constitution did establish a trust, the repeal of the 1840 Constitution by the 1852 Constitution terminated the trust. Moreover, Article 91 of the 1894 Constitution (Lorrin A. Thurston, The Fundamental Law of Hawaii, 2 35 (1904) specifically abrogated "all other [i.e., former] Constitutions" of Hawaii.
OHA states that the Great Mahele "continued" this trust concept because the lands conveyed to the Hawaiian Government were to be set "apart 'forever to the chiefs and people of my Kingdom'" (OHA's Comments, pp. 4-5). However, this language did not apply to the Crown lands (see Levy, p. 855). Accordingly, the Great Mahele clearly established no trust with respect to the Crown lands (e.g. United States v. Mitchell, supra). OHA contends that since the Crown lands eventually became Government lands, the provisions of the Great Mahele with respect to Government lands (i.e., that they be set 'apart forever to the chiefs and people of my Kingdom') automatically applied to the former Crown lands (OHA's Comments, p. 5). However, Article 95 of the 1894 Constitution (pursuant to which the former Crown lands became Government lands) specifically declared that the Crown lands were to be "...free and clear from any trust of or concerning the same..." [Emphasis supplied] (Thurston, p. 237). Although this language was primarily intended to terminate any trust in favor of Liliuokalani with respect to these lands (45 Ct.Cl. at 428-429), it is sufficiently broad so as to have barred the automatic creation of any new trust (in favor of the native Hawaiians) with respect to the Crown lands. Moreover, if OHA's interpretation of the provisions of the Great Mahele with regard to the Government lands is correct (i.e., that they automatically imposed a trust on the former Crown lands), then the provisions of Article 95 and the Act of June 7, 1848 (which adopted the
---