Nhsc-v1-399
From GrassrootWiki
---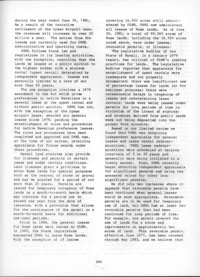 during the year ended June 30, 1981. As a result of the tentative settlement of the Lyman Airport case, the revenues will increase to over $2 million a year. The monies from the leases are currently used for DHHL administrative and operating costs.
DHHL follows State law and regulations in its leasing activities, with one exception, requiring that the lands be leased at a public auction to the highest bidder with a minimum rental (upset rental) determined by independent appraisers. Leases are generally limited to a term of not more than 65 years.
The one exception involves a 1978 amendment to the Act which gives preferences to native Hawaiians in a general lease at the upset rental and without public auction. DHHL has not, with the exception of the Lyman airport lease, awarded any general leases since 1978, pending the establishment of rules and procedures for native Hawaiian preference leases. The rules and procedures have been completed and approved and DHHL was, at the time of our review, obtaining appraisals for future awards under these procedures.
Hawaii land statutes also provide for licenses and permits in certain cases and under certain conditions. Land licenses.grant a privilege to enter Home lands for special purposes such as the removal of stone or gravel and may be granted for a period of not more than 20 years. Permits are issued for temporary occupancy of Home lands on a month-to-month basis which may continue for a period not to exceed one year from the date of issuance, with a provision that allows for the continuance of the permit on a month-to-month basis for additional one-year periods.
Prior to 1966, the general leases for Home lands were issued by DLNR. In 1965, the State legislature empowered DHHL to lease Home lands. With the exception of 18 leases covering 16,500 acres still administered by DLNR, DHHL now administers all leases of Home lands. As of June 30, 1981, a total of 93,363 acres of Home lands, including the 16,500 acres noted above, were under leases, revocable permits, or licenses.
The Legislative Auditor of the State of Hawaii, in a January 1979 report, was critical of DLNR's leasing practices for lands. The Legislative Auditor reported that appraisals for establishment of upset rentals were inadequate and not properly documented; there was insufficient use of percentage leases for lands let for business purposes; there were unreasonable delays in reopening of leases and redetermining lease rentals; lands were being leased under permits for long periods of time in violation of the intent of statute; and revenues derived from public lands were not being deposited into the proper fund accounts.
Based on our limited review we found that DHHL was obtaining independent appraisals for general leases and lease rental redeterminations. DHHL lease redeterminations were scheduled at varying intervals of 5 to 20 years and generally were being initiated in a timely manner. Also, DHHL recently began obtaining independent appraisals for significant permits and using tax assessed values for other less significant permits.
We did note two instances where it appears that revocable permits have been continued when general leases would be more appropriate. Revocable permits are to be used for temporary use of land, but DHHL had at least two revocable permits that had been continued for long periods of time. For example, one permit covered the use of lands for a store and improvements on approximately two acres of land. This revocable permit, effective June 1977, has been renewed through May 1982, and we believe that
---