Nhsc-v1-4
From GrassrootWiki
---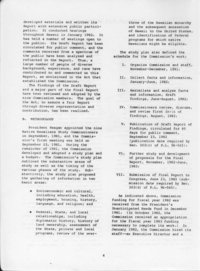 developed materials and written its Report with extensive public participation. It conducted hearings throughout Hawaii in January 1982. It has held a number of meetings open to the public. Its Draft Report has been circulated for public comment, and the comments received from a spectrum of the public have been analyzed and reflected in the Report. Thus, a large number of people of diverse background, experience, and race have contributed to and commented on this Report, as envisioned in the Act that established the Commission.
The findings of the Draft Report and a major part of the Final Report have been reviewed and adopted by the nine Commission members. The goal of the Act, to assure a fair Report through diverse representation and contribution, has been realized.
B. METHODOLOGY
President Reagan appointed the nine Native Hawaiians Study Commissioners in September, 1981, and the Commission's first meeting was held on September 23, 1981. During the remainder of 1981, the Commission developed and adopted a study plan and a budget. The Commission's study plan outlined the substantive areas of study as well as the timing of the various phases of the study. Substantively, the study plan proposed the gathering of information in two basic areas:
Socioeconomic and cultural, including education, health, employment, housing, history, language, and religion; and
Federal, State, and local relationships, including diplomatic history, history of land ownership, assessment of the State, private and local programs, review of the overthrow of the Hawaiian monarchy and the subsequent annexation of Hawaii to the United States, and identification of Federal programs for which native Hawaiians might be eligible.
The study plan also defined the schedule for the Commission's work:
I. Organize Commission and staff, November-December, 1981;
II. Collect facts and information, January-June, 1982;
III. Assimilate and analyze facts and information, draft findings, June-August, 1982;
IV. Commissioners review, discuss, and revise first draft of findings, August, 1982;
V. Publication of Draft Report of Findings, circulated for 60 days for public comment, September 23, 1982 (publication date required by Sec. 303(c) of P.L. 96-565);
VI. Further study and development of proposals for the Final Report, November, 1982-June, 1983;
VII. Submission of Final Report to Congress, June 23, 1983 (submission date required by Sec. 303(d) of P.L. 96-565).
As indicated above, Commission funding for fiscal year 1982 was received from the President's Unanticipated Needs Fund in December 1981. (In October 1982, the Commission received an appropriation for the fiscal year 1983 funding necessary to complete its work.) In January 1982, the Commission hired its staff—an Executive Director and a
---