Nhsc-v1-414
From GrassrootWiki
---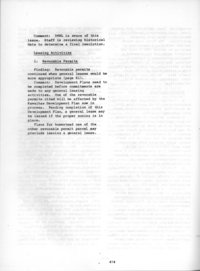 Comment: DHHL is aware of this issue. Staff is reviewing historical data to determine a final resolution.
Leasing Activities
1. Revocable Permits
Finding: Revocable permits continued when general leases would be more appropriate (page 61).
Comment: Development Plans need to be completed before commitments are made to any general leasing activities. One of the revocable permits cited will be affected by the Kawaihae Development Plan now in process. Pending completion of this Development Plan, a general lease may be issued if the proper zoning is in place.
Plans for homestead use of the other revocable permit parcel may preclude issuing a general lease.
---