Nhsc-v1-447
From GrassrootWiki
---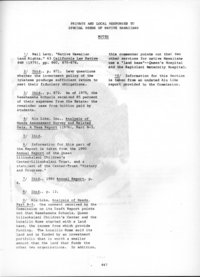 PRIVATE AND LOCAL RESPONSES TO SPECIAL NEEDS OF NATIVE HAWAIIANS
NOTES
1/ Neil Levy, "Native Hawaiian Land Rights," 63 California Law Review §48 (1975), pp. 860, 870-876.
2/ Ibid., p. 871. Levy questions whether the investment policy of the trustees produces sufficient return to meet their fiduciary obligations.
3/ Ibid., p. 872. As of 1975, the Kamehameha Schools received 85 percent of their expenses from the Estate; the remainder came from tuition paid by students.
4 Alu Like, Inc., Analysis of Needs Assessment Survey and Related Data, A Team Report (1976), Part B-3.
5/ Ibid.
6/ Information for this part of the Report is taken from the 1980 Annual Report of the Queen Liliuokalani Children's Center-Liliuokalani Trust, and a statement of the Center-Trust "History and Programs."
7/ Ibid., 1980 Annual Report, p. 6.
8/ Ibid., p. 12.
9/ Alu Like, Analysis of Needs, Part B-3. One comment received by the Commission on its Draft Report points out that Kamehameha Schools, Queen Liliuokalani Children's Center and the Lunalilo Home started with a land base, the income from which provide funding. The Lunalilo Home sold its land and is funded by an investment portfolio that is worth a smaller amount than the land that funds the other two organizations. In addition, this commenter points out that two other services for native Hawaiians use a "land base"—Queen's Hospital and the Kapiolani Maternity Hospital.
10/ Information for this Section is taken from an undated Alu Like report provided to the Commission.
---