Nhsc-v1-450
From GrassrootWiki
---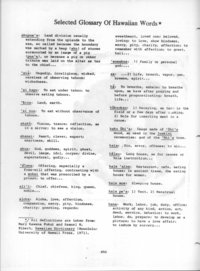 Selected Glossary Of Hawaiian Words*
ahupua'a: Land division usually extending from the uplands to the sea, so called because the boundary was marked by a heap (ahu) of stones surmounted by an image of a pig (pua'a), or because a pig or other tribute was laid on the altar as tax to the chief...
'aia; Ungodly, irreligious, wicked, careless of observing taboos; wickedness.
'ai kapu: To eat under taboo; to observe eating taboos.
'aina: Land, earth.
'ai noa: To eat without observance of taboos.
akaku: Vision, trance; reflection, as in a mirror; to see a vision.
akamai; Smart, clever, expert; smartness, skill.
akua; God, goddess, spirit, ghost, devil, image, idol, corpse; divine, supernatural, godly...
'alana: Offering, especially a free-will offering, contrasting with a mohai that was prescribed by a priest; to offer...
ali'i: Chief, chiefess, king, queen, noble...
aloha: Aloha, love, affection, compassion, mercy, pity, kindness, charity; greeting, regards; sweetheart, loved one; beloved, loving; to love, show kindness, mercy, pity, charity, affection; to remember with affection; to greet, hail...
'aumakua: 1) Family or personal god;... ea: ...2) Life, breath, vapor, gas, breeze, spirit...
ha: To breathe, exhale; to breathe upon, as kava after praying and before prognosticating; breath, life...
hakaokao: 1) Decaying, as taro in the field or a few days after cooking. 2) Hole for inserting mast in a canoe.
haku ohi'a: Image made of 'ohi'a wood, as used in the luakini ceremonies; god of the 'ohi'a tree.
hala: Sin, error, offense; to sin...
halau: Long house, as for canoes or hula instruction...
hale 'aina: Restaurant, cafe, eating house; in ancient times, the eating house for women.
hale moe: Sleeping house.
hale pe'a: 1) Tent. 2) Menstrual house.
hana: Work, labor, job, duty, office; activity of any kind, action, act, deed, service, behavior; to work, labor, do, prepare; to develop as a picture; to have a love affair; to induce by sorcery...
*/ All definitions are taken from: Mary Kawena Pukui and Samuel H. Elbert, Hawaiian Dictionary (Honolulu: University of Hawaii Press, 1971).
---