Nhsc-v1-459
From GrassrootWiki
---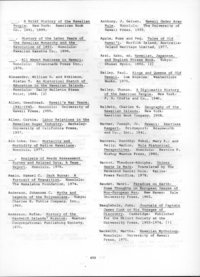 ___. A Brief History of the Hawaiian People. New York: American Book Co., 1891, 1899.
___. History of the Later Years of the Hawaiian Monarchy and the Revolution of 1893. Honolulu: Hawaiian Gazette Co., 1896.
___. All About Business in Hawaii. Honolulu: 1978. Crossroads Press Inc.,
Alexander, William D. and Atkinson, Alatau T. An Historical Sketch of Education in the Hawaiian Islands. Honolulu: Daily Bulletin Steam Print, 1888. [2]
Allen, Gwenfread. Hawaii's War Years, 1941-1945. Honolulu: University of Hawaii Press, 1955.
Aller, Curtis. Labor Relations in the Hawaiian Sugar Industry. Berkeley: University of California Press, 1957.
Alu Like, Inc. Mortality and Morbidity of Native Hawaiians. Honolulu, 1977.

___. Analysis of Needs Assessment Survey and Related Data, A Team Report. Honolulu, 1976.
Amalu, Samuel C. Jack Burns: A Portrait of Transition. Honolulu: The Mamalahoa Foundation, 1974.
Anderson, Johannes C. Myths and Legends of the Polynesians. Tokyo: Charles E. Tuttle Company, Inc., 1969.
Anderson, Rufus. History of the Sandwich Islands' Mission. Boston: Congregational Publishing Society, 1870.
Anthony, J. Garner. Hawaii Under Army Rule. Honolulu: The University of Hawaii Press, 1955.
Apple, Russ and Peg. Tales of Old Hawai'i. Norfolk Island, Australia: Island Heritage Limited, 1977.
Arai, Saku, ed. Hawaiian, Japanese, and English Phrase Book. Tokyo: Shusai Byoin, 1892. [2]
Bailey, Paul. Kings and Queens of Old Hawaii. Los Angeles: Westernlore Books, 1975.
Bailey, Thomas. A Diplomatic History of the American People. New York: F. S. Crofts and Co., 1940.
Baldwin, Charles W. Geography of the Hawaiian Islands. New York: American Book Company, 1908.
Barber, Joseph, Jr. Hawaii: Restless Rampart. Bridgeport: Braunworth and Co., Inc., 1941.
Barrere, Dorothy; Pukui, Mary K.; and Kelly, Marion. Hula Historical Perspectives. Honolulu: Bernice P. Bishop Museum Press, 1980.
Barrot, Theodore-Adolphe. Unless Haste Is Made. Translated by The Reverend Daniel Dole. Kailua: Press Pacifica, 1978.
Baudet, Henri. Paradise on Earth: Some Thoughts on European Images of Non-European Man. New Haven: Yale University Press, 1965.
Beaglehole, John. Journals of Captain James Cook on His Voyages of Discovery. Cambridge: Published for the Hkluyt Society at the University Press, 1955-1974. [1]
Beckwith, Martha. Hawaiian Mythology. Honolulu: University of Hawaii Press, 1970.
---