Nhsc-v1-468
From GrassrootWiki
---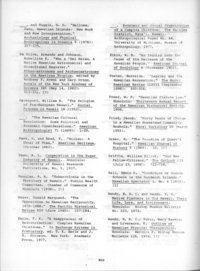 ___, and Tuggle, H. D. "Bellows, Oahu, Hawaiian Islands: New Work and New Interpretation." Archaelology and Physical Anthropology in Oceania 9 (1976): 207-235.
Da Silva, Armando and Johnson, Rubellite K. "Ahu a 'Umi Heiau, A Native Hawaiian Astronomical and Directional Register." Ethno-astronomy and Archaeoastronomy in the American Tropics, edited by Anthony F. Aveni and Gary Urton, Annals of the New York Academy of Science 385 (May 14, 1982): 313-331. [3]
Davenport, William H. "The Religion of Pre-European Hawaii." Social Process in Hawaii 16 (1952).
___. "The Hawaiian Cultural Revolution: Some Political and Economic Considerations." American Anthropologist 71 (1969): 1-20.
Daws, G. and Head, T. "Niihau: A Shoal of Time." American Heritage. (October 1963).
Dean, A. L. Cooperation in the Sugar Industry of Hawaii. Honolulu: University of Hawaii Research Publications, No. 3, 1927.
Douglas, B. H, "Tuberculosis in the Territory of Hawaii." Public Health Committee. Chamber of Commerce of Honolulu (1938). [1]
Dozer, Donald Marquand. "The Opposition to Hawaiian Reciprocity, 1876-1888." The Pacific Historical Review XIV (June 1945): 157-184.
Earle, T. K. "A Reappraisal of Redistribution: Complex Hawaiian Chiefdoms." In Exchange Systems in Prehistory, ed. T. K. Earle and J. E. Ericson. New York: Academic Press, 1977.
___. Economic and Social Organization of a Complex Chiefdom: The Halelea District, Kaua'i, Hawaii. Anthropological Paper No. 64. University of Michigan, Museun of Anthropology, 1977.
Elkin, W. B. "An Inquiry into the Cause of the Decrease of the Hawaiian People." American Journal of Sociology 8 (November 1902).
Foster, Burnside. "Leprosy and the Hawaiian Annexation." The North American Review CLXVII (September 1898): 300-306.
Frear, W. F. "Hawaiian Statute Law." Honolulu: Thirteenth Annual Report of the Hawaiian Historical Society, 1906.
Fried, Jacob. "Forty Years of Change in a Hawaiian Homestead Community: Anahola." Rural Sociology 20 (March 1955).
Greer, R. "The Founding of Queen's Hospital." Hawaiian Journal of History 3 (1969): 10. [1]
Griffis, William Elliot. "Our New Fellow-Citizens." The Outlook LIX (July 23, 1898): 722-728.
Hall, Edwin O. "Condition of Common Schools in the Sandwich Islands." Hawaiian Spectator 1, No. 4 (1838). [2]
Handy, E. S. C. and Handy, E. G. Native Planters in Old Hawaii, Their Life, Lore, and Environment. Honolulu: Bishop Museum Bulletin No. 223, 1972.
Handy, E. S. C; Pukui, Mary Kawena; and Livermore, K. Outline of Hawaiian Physical Therapeutics. Honolulu: Bernice P. Bishop Museum Bulletin 126, 1934. [1]
---