Nhsc-v1-53
From GrassrootWiki
---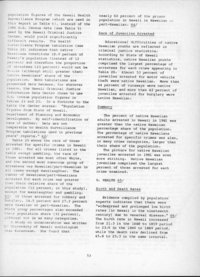 population figures of the Hawaii Health Surveillance Program (which are used in this Report in Table 6), instead of the 1980 U.S. Census data (see Table 5) used by the Hawaii Criminal Justice Center, would yield significantly different results. The Health Surveillance Program tabulation (see Table 24) indicates that native Hawaiians constitute 18.9 percent of Hawaii's population (instead of 12 percent) and therefore the proportion of arrestees (23 percent) would not be double (although still greater than) native Hawaiians' share of the population. Both tabulations are presented here because, for whatever reason, the Hawaii Criminal Justice Information Data Center chose to use U.S. Census population figures in Tables 23 and 2 5. In a footnote to the table the Center states: "Population figures from State of Hawaii, Department of Planning and Economic Development. By self-identification or race of mother. Data are not comparable to Health Surveillance Program tabulations used in previous years' reports." 62/
Table 25 shows the race of those arrested for specific crimes in Hawaii in 1981. For all crimes listed in the table except gambling, the race of those arrested was most often White, and the second most numerous group of arrestees was Hawaiian/part-Hawaiian in all cases except manslaughter. The number of Hawaiians/part-Hawaiians arrested for each crime was greater than their relative share of the population (12 percent, in this study), except for manslaughter and gambling. 63/ Of those arrested for robbery and burglary, 24.5 percent and 27.3 percent were Hawaiian or part-Hawaiian. The White group percentages also exceeded their population share (33 percent), althouyh not in as many categories.
A study on incarceration was written by University of Hawaii sociologist Jean Kussebaum. She found that nearly 60 percent of the prison population in Hawaii is Hawaiian or part-Hawaiian. 64/
Race of Juveniles Arrested
Educational difficulties of native Hawaiian youths are reflected in criminal justice statistics. According to State of Hawaii statistics, native Hawaiian youths comprised the largest percentage of arrestees for each crime appearing in Table 26. Almost 53 percent of juveniles arrested for motor vehicle theft were native Hawaiian. More than 44 percent of runaways were native Hawaiian, and more than 42 percent of juveniles arrested for burglary were native Hawaiian.
Summary
The percent of native Hawaiian adults arrested in Hawaii in 1981 was greater than the native Hawaiian percentage share of the population. The percentage of native Hawaiians arrested for specific crimes was also, in many crime categories, larger than their share of the population. The picture for native Hawaiian juveniles arrested in 1981 was even more striking. Native Hawaiian juveniles comprised the largest percent of those arrested for each crime examined.
H. HEALTH 65/
Birth and Death Rates
Evidence compiled by population' experts indicates that there were "widespread and prolonged low birth rates [in Hawaii in the nineteenth century] due to venereal disease." 66/ The birth rate in Hawaii increased from 21.3 in the 1848 to 1859 period to 23.6 in the 1880 to 1889 period, while the death rate declined from 45.8 to 25.3 in the same interval.
---