Nhsc-v1-65
From GrassrootWiki
---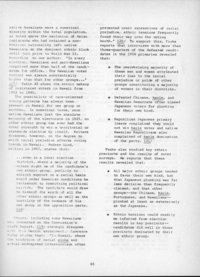 native Hawaiians were a numerical minority within the total population, as noted above the exclusion of Asian immigrants who had retained a non-American nationality left native Hawaiians as the dominant ethnic block until just prior to World War II. According to one author: "In every election, Hawaiians and part-Hawaiians comprised more than half of the candidates for office. The Hawaiian voter turnout was always substantially higher than that for other groups..." 117/. Table 42 shows the ethnic makeup of registered voters in Hawaii from 1902 to 1940.
The possibility of race-oriented voting patterns has always been present in Hawaii for one group or another. In numerical terms, once native Hawaiians lost the absolute majority of the electorate in 1925, no other ethnic group has ever had the voter strength to win a territorial or statewide election by itself. Writers disagree, however, on the degree to which racial prejudice affects voting trends in Hawaii. Andrew Lind, writing in 1967, states that:
...even in a local election district, where a majority of the voters might be of the candidate's own ethnic group, publicly to solicit support on a racial basis would under Hawaiian conditions be tantamount to committing political suicide. The candidate would draw to himself the wrath of all the other ethnic groups as well as the hostility of the members of his own group in the opposition party. 118/
Others, including some Hawaiians who connented on the Commission's Draft Report, 119/ strongly disagree with this benign assessment. Lawrence Fuchs writes that: "In Hawaii, where the tradition of racial aloha and actual widespread intermarriage often prevented overt expressions of racial prejudice, ethnic tensions frequently found their way into the voting booth." 120/ To support this, Fuchs reports that interviews with more than three-quarters of the defeated candidates in the 1958 primaries revealed that:
The overwhelming majority of these men and women attributed their loss to the racial prejudice or pride of other groups constituting a majority of voters in their districts.
Defeated Chinese, haole, and Hawaiian Democrats often blamed Japanese voters for plunking for their own kind.
Republican Japanese primary losers complained they could not win haole votes and native Hawaiian Republicans also complained of haole domination of the party. 121/
Fuchs also studied key ethnic precincts and the results of voter surveys. He reports that these results revealed that:
All major ethnic groups tended to favor their own kind, but that Japanese plunking was far less decisive than frequently claimed, and that other groups—the Chinese, haole, Portuguese, and Hawaiians—plunked at least as extensively as the Japanese.
Ethnic tensions could readily be inferred from election results in key precincts-candidates did well in those precincts dominated by their own ethnic group.
---