Nhsc-v1-67
From GrassrootWiki
---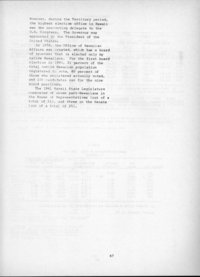 However, during the Territory period, the highest elective office in Hawaii was the non-voting delegate to the U.S. Congress. The Governor was appointed by the President of the United States.
In 1978, the Office of Hawaiian Affairs was created, which has a board of trustees that is elected only by native Hawaiians. For the first board election in 1980, 31 percent of the total native Hawaiian population registered to vote, 80 percent of those who registered actually voted, and 100 candidates ran for the nine board positions.
The 1981 Hawaii State Legislature consisted of seven part-Hawaiians in the House of Representatives (out of a total of 51), and three in the Senate (out of a total of 25).
---