Nhsc-v1-78
From GrassrootWiki
---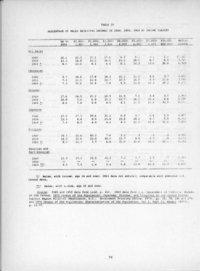 TABLE 20
PERCENTAGE OF MALES RECEIVING INCOMES IN 1949, 1959, 1969 BY INCOME CLASSES
           Up to   $1,000-  $2,000-  $3,000  $4,000-  $5,000-    $7,000-  $10,000     Median
           $999     1,999    2,999    3,999   4,999    6,999      9,000    and Over   Income

All Races

  1949      16.6     22.3     27.1     17.6     6.9     5.3      2.1        1.8      $2,340
  1959      11.3     14.4     12.2     16.0    13.0    18.0      8.7        6.5       3,717
  1969 */    8.5     10.0      8.1      6.4     6.1    14.3     19.6       26.8       6,529

Caucasion

  1949       9.7     24.8     17.8     18.3    10.1    11.0      4.6        3.7       2,856
  1959       7.9     21.5     11.9     12.7    10.9    14.5      9.9       10.6       3,649
  1969 */    7.3     10.6     10.4      7.8     5.9    13.6     16.3       28.1       6,173

Chinese

  1949      17.6     14.9      20.2    22.9    11.9     7.5       3.4       3.5       2,964
  1959      10.8      7.0       6.9    10.2    13.7    26.1      15.4       9.8       5,096
  1969 */    8.6      7.4       4.8     4.5     4.1    10.5      19.2      33.5       8,000

Japanese        
 
  1949      17.5     17.3      29.6    21.1     6.8     3.7      1.4        1.5       2,427
  1959      12.5      8.4       8.9    15.4    15.8    24.2      9.7        5.0       5,302
  1969 */    7.4      8.0       4.9     4.2     4.3    11.1     22.8         31.0     7,839

Filipino

  1949      18.1     32.6      40.2     7.6     1.2      .5        .1         .1      1,995
  1959      14.5     11.6      22.0    28.0    11.7     9.5       2.3         .5      3,071
  1969 */    8.2     11.3       7.7     6.8    10.0     21.6     18.2       10.0      5,252

Hawaiian and
Part-Hawaiian

  1949      22.5     17.2      25.5    21.5     7.1      3.7      1.5         .       2,369
  1959       --       --        --       --      --      --       --          --           ---
  1969 **/   8.5      7.9       5.4     5.4     5.8     13.8      22.5      21.9      6,835

*<u/>/ Males, with income, age 14 and over; 1969 data not entirely comparable with previous U.S. Census data,
<u>**/ Males, wiht income, age 16 and over.
Source: 1949 and 1959 data from Lind, p. 100. 1969 data frorr U.S. Department of Commerce, Bureau of the Census, 1970 Census of the Population; Japanese, Chinese, and Filipinos in ihe United States, Subject Report PC(2)-1G (Washington, D.C.: Government Printing Office, 1973), pp. 15, 74 146 and 179; and 1970 Census of the Population; Characteristics of the Population, Vol I, Part 13, Hawaii (1973), p. 13-77.
---