Nhsc-v1-v
From GrassrootWiki
---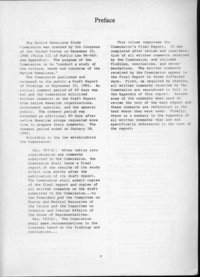 The Native Hawaiians Study Commission was created by the Congress of the United States on December 22, 1980 (Title III of Public Law 96-565; see Appendix). The purpose of the Commission is to "conduct a study of the culture, needs and concerns of the Native Hawaiians."
The Commission published and released to the public a Draft Report of Findings on September 23, 1982. An initial comment period of 60 days was set and the Commission solicited written comments on the Draft Report from native Hawaiian organizations, government agencies, and the general public. The comment period was extended an additional 60 days after native Hawaiian groups requested more time to prepare their comments. The comment period ended on January 24, 1983.
According to the law establishing the Commission:
Sec. 303(d). After taking into

consideration any comments submitted to the Commission, the Commission shall issue a final report of the results of its study within nine months after the publication of its draft report. The Commission shall submit copies of the final report and copies of all written comments on the draft submitted to the Commission...to the President and the Committee on Energy and Natural Resources of the Senate and the Committee on Interior and Insular Affairs of

the House of Representatives.
Sec. 303(e). The Commission

shall make recommendations to the Congress based on its findings and

conclusions...
This volume comprises the Commission's Final Report. It was completed after review and consideration of all written comments received by the Commission, and includes findings, conclusions, and recommendations. The written comments received by the Commission appear in the Final Report in three different ways. First, as required by statute, all written comments received by the Commission are reproduced in full in the Appendix of this report. Second, some of the comments were used to revise the text of the main report and these comments are referenced in the text where they were used. Finally, there is a summary in the Appendix of all written comments that are not specifically referenced in the text of the report.
---